WOW! Thank you to all that came along to our second WCF quiz night and fundraiser!
It was a success again and we were able to raise $3,100 for the Foundation! 
It was a small group of 50, but that didn't stop the fun times and laughs with the very happy attendees. There were many people who contributed their time to help make this event a success. But here are a few that we would like to mention.
SARAH OWEN – MC
Sarah stepped in to MC the quiz for us, and we are very grateful for her donating her time to bring her lively upbeat personality to our night!
STUART WARDS – Harcourts
Stuart donated his time and auctioneering talent for the second year running, and helped us to raise great amounts for the various items we had to offer. Not a slight feat considering he was also preparing for a National Auctioneering tournament the following Monday!
MIKHAELA CRUZ – 2018 Waitakere College Foundation Scholarship recipient
We would like to say a BIG THANK YOU to Michaela for donating her time and coming along to speak about how receiving a scholarship helped her on her next journey.
QUIZ NIGHT MARKERS
We had 3 marvellous markers: Matt McLeod and Liesl Knox – WCF Trustees and Michael Hope a Henderson Rotary Club volunteer!
QUIZ PARTICIPANTS
THANK YOU! for coming along. Without your generous donations of time and money, it would not have been the success it was. Know that every cent that was raised, is going to go towards hard working students, who simply need a hand up to start the climb to their dreams & goals.
There are many businesses that donated items to our Quiz and we would just like to list them for you all, so please feel free to support and shop with them!
Roll on the next Quiz Night Fundraiser.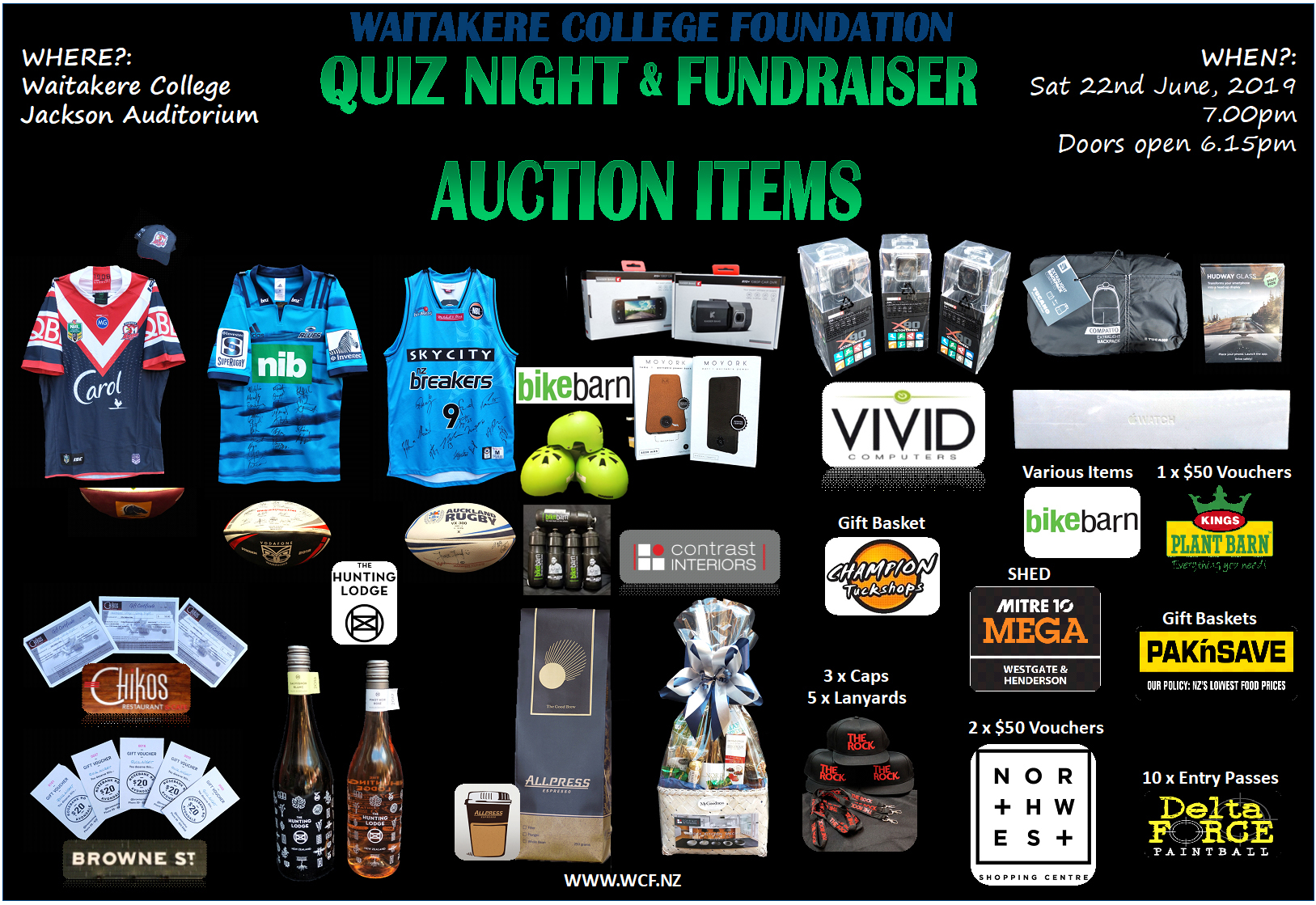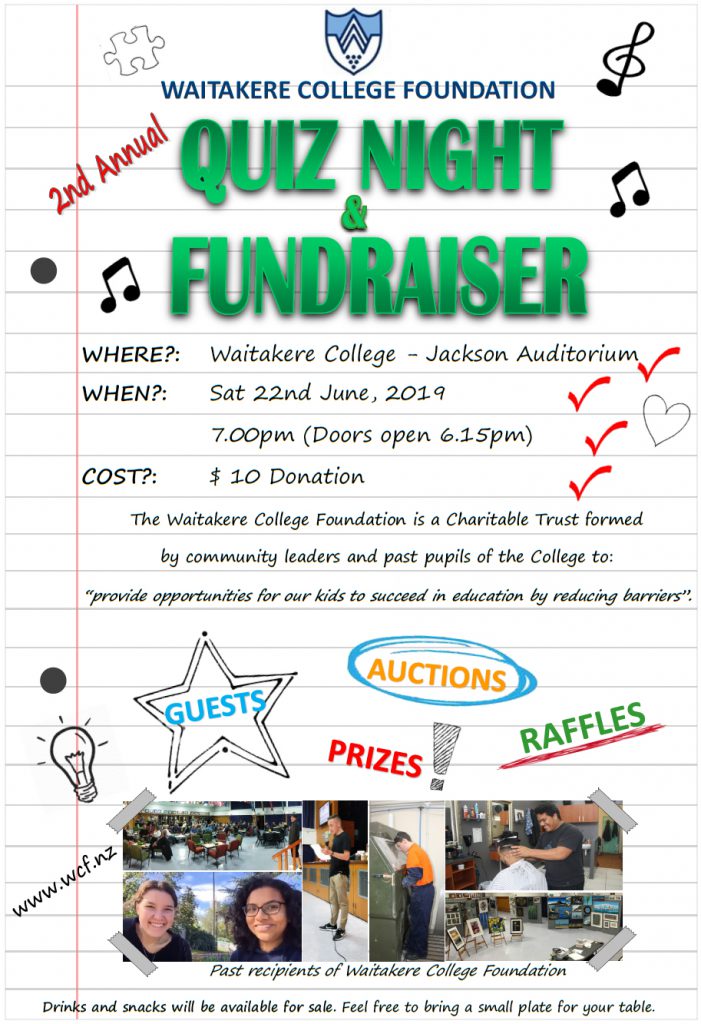 OUR STUDENTS SUCCESS IS OUR DRIVING FORCE.
Last year we held our Inaugural Annual Quiz & Fundraiser. It was really successful so we are doing it again this year, and we would love to top last year to be able to help even more students.
Entry is a mere $10 donation for a night of laughs, fun and good times.
We have a couple of past recipients of WCF coming along to the Quiz Night, to talk about how the financial support helped them, so you get a real feel for what your donation contributes to. Please click to see what some past WCF recipients have to say here: WHO WE HAVE HELPED
Our latest feedback about sponsoring a student to attend their Yr 10 Camp:
Dear foundation,
I just want to say how grateful I am to have you contribute a lot in order for me to be allowed to attend this camp, this is my favourite camp of all time, I got to meet new friends, make new memories, explore a little bit more of New Zealand and it allowed me to stay off of my device for a week. I really enjoyed talking to people that I see around school but don't usually communicate with, I enjoyed all the activities, the sight seeing, the hikes and just the bonds that were created through this camp. When people mention year 10 camp, I remember it as one of the bestest most funnest camps I've ever had and I just want to thank you for making it possible, without your help I wouldn't be close friends with the people I hang around today, I wouldn't have seen the beautiful beaches that we have here in New Zealand and I wouldn't have been able to experience the activities we had. I will always remember this camp as one of my most treasured moments, thank you so so much for your contribution.